*****************************************************************************************************************************************************************
WIBDENSHAW &nbsp &nbsp by Kier Hardy
*****************************************************************************************************************************************************************
&nbsp
Wibdenshaw forms part of the conurbation of West Yorkshire, and the layout portrays the approaches to a large station within an urban landscape.
&nbsp
The Midland Railway route from London to Carlisle would have passed through the centre of Wibdenshaw, if the plans to build the railway across the centre of Bradford had ever been completed.
&nbsp
The rolling stock is based on examples which were common in West Yorkshire during the 1970s.
&nbsp
The approaches to the station have been modelled from the point where the Leeds lines and the Bradford lines diverge at Pudsey Junction.
&nbsp
Lineside features include the locomotive depot, Goods Yard and Parcels Depot, the latter being very busy with the numerous mail order catalogue companies in the area.
&nbsp
A southbound van train being hauled by Class 20s, 8145 in green and D8077 in blue livery.
&nbsp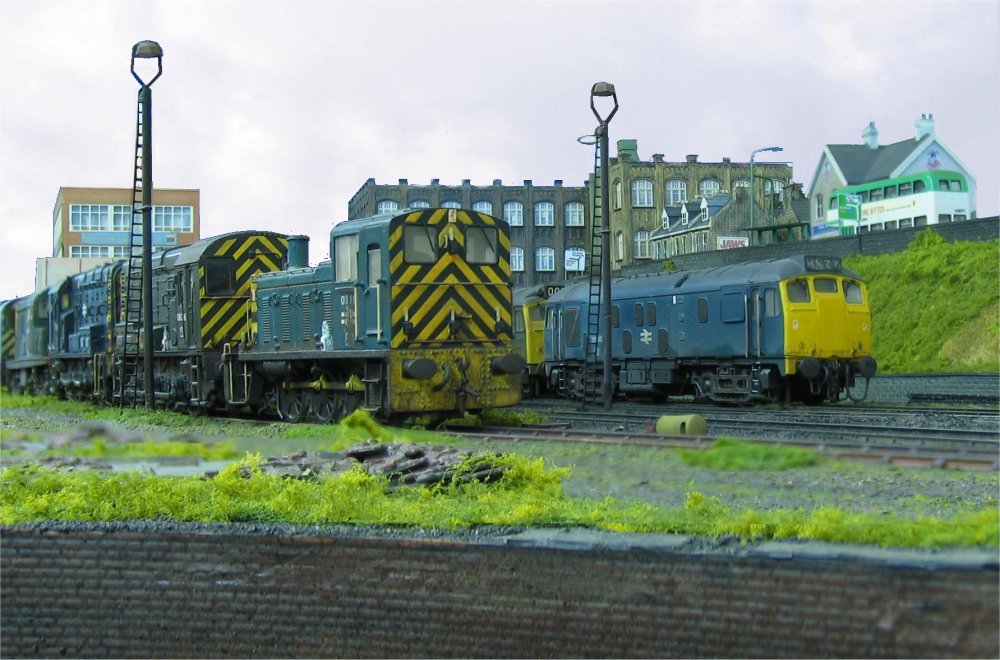 Tinsley's 25002 is seen at Pudsey Junction stabling point in the company of a line up of shunters, headed by 03111. The class 25/0 is converted from a Bachmann 24, whilst the origin of the 03 is a detailed Mainline body on a High Level chassis kit.

*****************************************************************************************************************************************************************
*****************************************************************************************************************************************************************